Our office is in the former Washington School, which was erected in 1933 by the School District of East Donegal Township. Although our building is no longer utilized as a school, we still place high importance on educating our clients. Totally remodeled in 2006, the hospital is state of the art while still retaining the elementary school feel. Look for the blackboards, antique school desks, and some of the school's original signs in our lobby!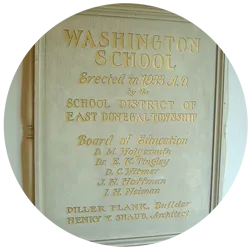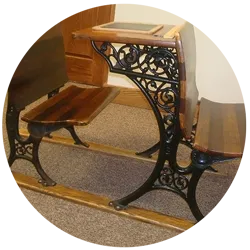 Donegal Animal Hospital was established in 1989 and was purchased by Dr. McGrath in 1993. Since then, our hospital moved to a new location and has grown to a staff of 11, including 3 doctors. Before owning Donegal Animal Hospital, Dr. McGrath worked for Dr. Harpster and Dr. Albright when they owned West Shore Veterinary Hospital in New Cumberland. Dr. Albright became an associate veterinarian in 2005; Dr. Dill joined our practice in 2011.
On staff are Certified Veterinary Technicians (CVT), who have graduated from an American Veterinary Medical Association (AVMA) accredited college and are licensed in the Commonwealth of Pennsylvania. These Certified Veterinary Technicians work closely with the veterinarians to provide the excellent animal care your pet deserves. Like their human health care counterparts, veterinarians and certified veterinary technicians are required to accumulate education hours each year to remain licensed. You can be assured that they are knowledgeable and on the cutting edge of veterinary medicine.

Our Mission
To always provide the highest quality of veterinary medical and surgical care for our patients in a professional, caring and timely manner. We want every interaction with our clients and patients to reflect our goal of providing compassionate care to pets and their owners.
Our Philosophy
Our clients are our close friends as well as our customers, and we value their continued trust and goodwill. Courtesy and patience with clients and their pets are our top priorities. "We are glad you are here" is an attitude we strive to convey to every client.